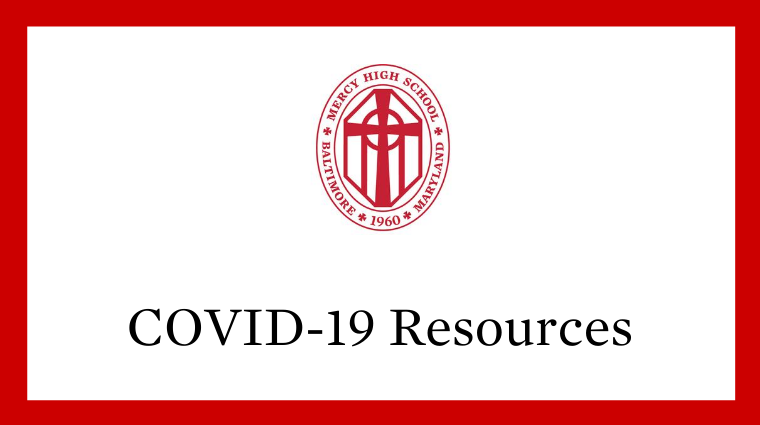 Mercy's COVID Response Team continues to oversee our response to the coronavirus pandemic. The COVID-19 Response Team is comprised of trustees, faculty, staff, and other experts and regularly receives guidance from our Public Health Resource Group, which comprises alumnae who work in the field of public health.

In addition, Mercy High School is attuned to the recommendations of the Archdiocese of Baltimore, the Centers for Disease Control and Prevention, and other local, state, and federal agencies.
Our Steering Committee is assisted by the following teams:
Finance, Legal, and Personnel Team
Online Teaching and Learning Team
Facilities, Health, and Safety Team
Enrollment Management Team
Fundraising Team
Spirituality and Wellness Team
The COVID-19 Response Team is working diligently to ensure the health and safety of every Mercy Girl and her family.
---
Current COVID Travel Policy (August 2021)
Faculty, staff, and students are encouraged to limit travel to areas with substantial levels of COVID-19 community transmission.
If you have any questions, please do not hesitate to contact us at taskforce@mercyhighschool.com.

---
Community Communications
February 24, 2022 Letter to the Mercy Community
January 14, 2022 Letter to Families
February 26, 2021 Letter to the Mercy Community
August 20, 2021 COVID Healthy and Safety Protocols
August 20, 2021 Reopening Mercy for the 2021-2022 Academic Year
January 7, 2021 Letter to Families
December 18, 2020 Letter to the Mercy Community
November 6, 2020 COVID-19 Update and Travel Advisory
October 7, 2020 Reopening Mercy, Part Three
September 30, 2020 Letter to Families
September 25, 2020 COVID-19 Update
August 27, 2020 Letter To Families

August 13, 2020 Reopening Mercy, Update
August 5, 2020 Reopening Mercy, Part Two
July 15, 2020 Reopening Mercy, Part One
May 6, 2020 Letter to the Mercy Community
April 17, 2020 Letter to the Mercy Community
March 25, 2020 Letter to the Mercy Community
March 21, 2020 Letter to Families
March 17, 2020 Letter to the Mercy Community
March 13, 2020 Letter to Families
March 12, 2020 Letter from School Leadership
March 12, 2020 Letter to Families
March 10, 2020 Letter to Families
March 6, 2020 Letter to Families