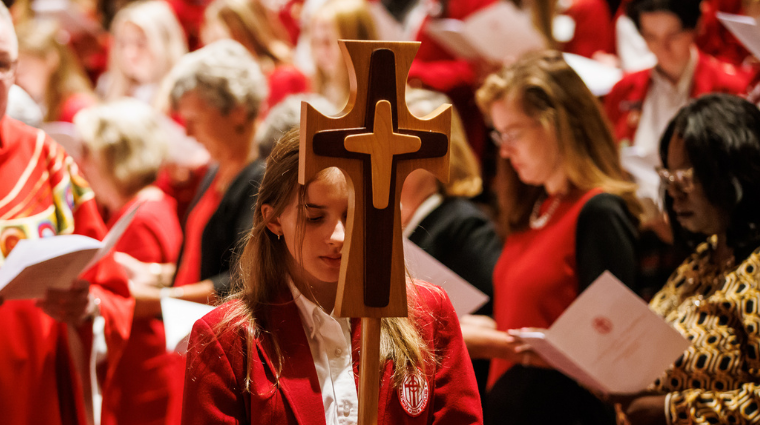 The Campus Ministry Program is directed and supervised by the Director of Mission and Ministry. The program includes three major components:
Education in religious understanding.
Response to ministerial needs of students and their families.
Promotion of liturgical awareness, prayer and worship, and social service outreach.
Let us remember that we are in the presence of God.
About the Campus Ministry Program
Educational aspects of the Campus Ministry Program are addressed primarily through a carefully sequenced curriculum of Religion courses aimed at broadening students' knowledge and deepening their understanding of the religious dimension of their lives. Students of religious traditions other than Catholic are welcome at Mercy and encouraged to deepen their own religious understanding and practice.
The Campus Ministry Program is the center of the school's response to students and their families in times of particular difficulties or crisis. The Director of Campus Ministry works closely with Advisers and with the Community Support Team in this regard. Students and parents are encouraged to communicate with Advisers and/or with the Director of Campus Ministry about circumstances of this kind so that appropriate communication and support may take place.
The Director of Campus Ministry promotes liturgical awareness in the school and integrates prayer and worship into the daily life of the school. Campus Ministry is specifically responsible for providing an annual one-day retreat experience for each year level, the Senior closed retreat, and various designated prayer services.
The Director of Campus Ministry works with the Coordinator of the Social Service Outreach Program for the whole school and collaborates with other groups in the school in their service endeavors.