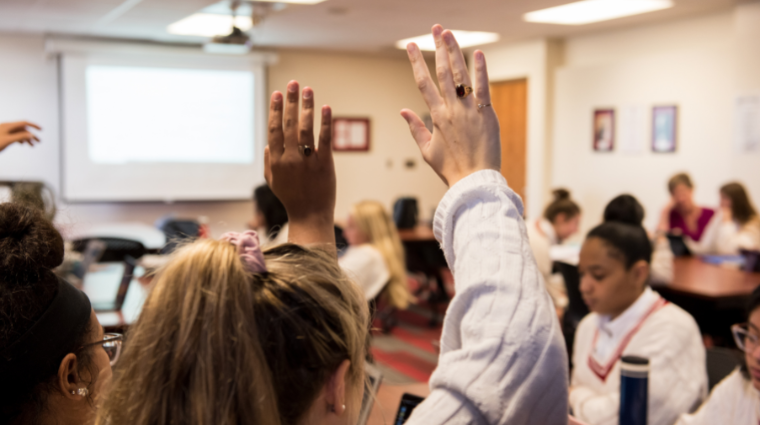 Student Services strives to create and maintain an environment that nurtures students and supports parents through all four years of high school and provides tools and resources to take with them in the future. Support of their personal and academic growth is provided through:
The Seminar Program: This four-year curriculum provides students with the tools they need to thrive academically, emotionally and relationally. Seminar consists of five strands:

Health and Wellness
Cultural Competence
Study Skills
Leadership



The Learning Center: Mercy's learning specialist helps teachers understand students' learning needs, works with students individually and in Seminar to identify their learning styles, and provide effective study skills and strategies so that they can reach their full learning potential.


The Adviser Program: A four-year mentoring model, students are provided with daily care and attention needed to thrive, both at Mercy and in life. Groups are small, typically fifteen students or less, and students usually stay with the same adviser throughout their years at Mercy. The program includes:

Daily contact through morning advisory period
Monthly advisee meetings
Contact with parents
Individual meetings as needed



Individual counseling: Mercy has three full-time counselors on staff who meet with students individually, lead seminar classes and work with teachers to effectively support their students.
---
Suspected child abuse: Mercy High School complies with Maryland laws requiring reporting suspected child abuse to civil authorities. Under Maryland Law any person who has reason to believe a child has been subjected to abuse must report the suspected abuse to civil authorities, even if the potential victim is now over 18 years old and even in cases where the alleged perpetrator is deceased. If you know or suspect that a child has been abused or neglected, contact your local authorities right away. Or, for assistance, call the ChildHelp National Child Abuse Hotline (staffed 24 hours daily by professional crisis counselors) at 1-800-4-A-CHILD (1-800-422-4453).