Class of 2026
Congratulations, Class of 2026! Welcome to Mercy!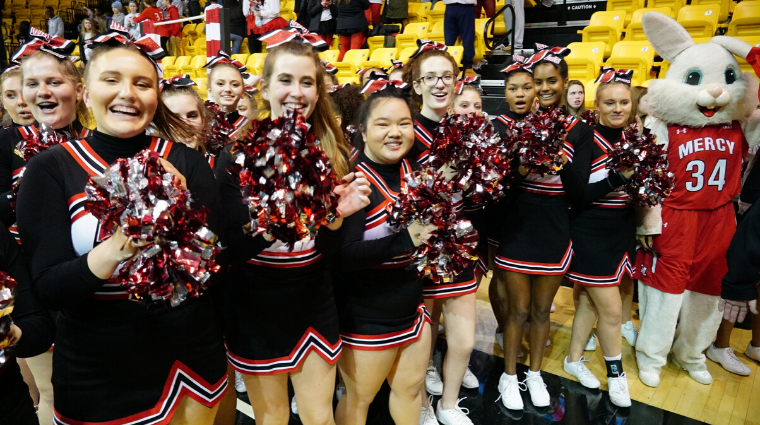 Congratulations!
As one of our newest Mercy girls you have so much to look forward to! In order to prepare you for your upcoming freshman year, please keep an eye on this page. All important dates, downloads, and reminders (including summer work!) will be on this webpage for you. Check out the sidebar for important forms to fill out and our reoccurring Mercy Newsletter.
---
IMPORANT DATES
Mark your calendars! These are important upcoming dates for the Class of 2026.
Magnus Health Medical Form Deadline: July 23, 2022. On July 6, 2022, you will have access to your Magnus Health SMR account. You will receive an email from service@magnushealthportal.com to create your password. We ask that you enter the health information required within your Magnus Health SMR account for each child attending Mercy High School.
Freshman Orientation: August 24th-26th, 2022. Orientation will be in August and will cover everything our new students will need to know about Mercy. After Orientation your daughters freshman year at high school will begin!

Wednesday, August 24 9:00 a.m. – 3:00 p.m. (Drop off at The Harry and Jeanette Weinberg Auditorium – Lot C)
Thursday, August 25 8:00 a.m. – 4:45 p.m. (please refer to the emailed letter for more details.)
Friday, August 26 9:00 a.m. – 3:00 p.m. (Drop off at The Harry and Jeanette Weinberg Auditorium – Lot C)
---
SUMMER WORK
All incoming freshman must:
Read The Secret Life of Bees, by Sue Monk Kidd (All English Classes)
Read The Immortal Life of Henrietta Lacks by Rebecca Skloot (All Science Classes and STEM special programs)
Complete a Math Packet (All Math Classes)
Conduct an oral history interview (All History Classes)
There are a few summer assignments that are based on placement! Not every student needs to do these. Only those who have tested into certain classes.
Spanish 2 (After receiving the Summer Mailing and your placement). You will read a short novel titled: Patricia va a California. This is linked on the side bar
French 2 (After receiving the Summer Mailing and your placement) Read La "famille Marais" by Joseph F Conroy. This will be sent to you.
MATH WORK IS DUE THE FIRST DAY OF ORIENTATION. All other summer work is due the first day of classes!
---
IMPORTANT INFORMATION
Our entire community is so proud of all your hard work, and it's almost time for you to rest and relax for the summer! There are a few things we want you to keep in mind:

Device Information: All incoming students must have a device that can run Windows 10. To take advantage of the volume-purchase discount, order by April 4, 2022. More specifications can be found on the Device Information page.
Uniform Information: From head to toe - red blazer to black shoes - learn what you'll need to wear.
June Mailing: There will be a physical mailing towards the end of June with your course schedule, placement test results, important calendar dates, textbook and device information, and information about Orientation and Retreat. Please keep an eye on your mailbox.
Summer Assignments: We will have a few assignments for you over the summer, and these will be shared in June.
Athletics Tryouts: Information about time and schedule will be announced at a later date. For any questions please reach out to our Athletic Director, Nick Gill.
Carpool Signup: We will send you the names and telephone numbers of those students living in the zip codes you have indicated to help coordinate carpooling.