Visit
We can't wait to show you Mercy!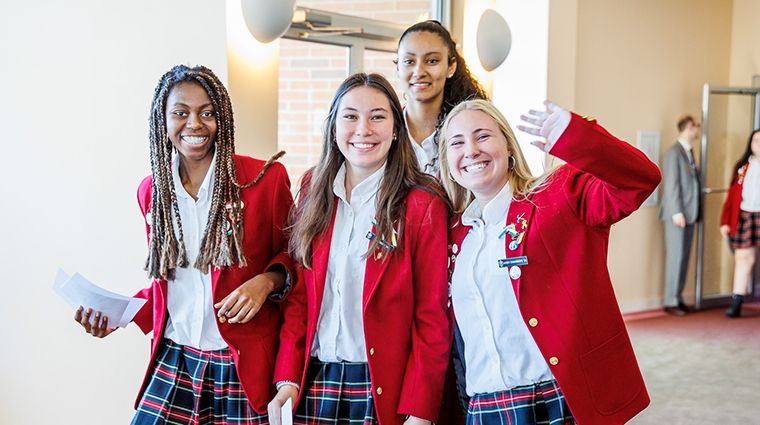 Athletics Open House
Wednesday, November 30
6:00 - 7:30 p.m.
Join us for Mercy's Athletics Open House to witness how CHAMPIONS LIVE HERE! This event is open to 5th, 6th, 7th, and 8th grade and transfer students of ALL athletic abilities. Meet coaches and student athletes from all three seasons and attend a panel Q&A session in Mercy's gym!
---
Magic Moments: Parent Information Sessions
September - December
We invite the families of 6th, 7th, and 8th grade students to join us for "Magic Moments", an admissions information session, each month during the fall and winter*. Spend some time at Mercy and learn about our signature programs, academic opportunities, and admissions process. Take a tour of our campus with a member of the admissions team and have all of your questions answered.

*There will also be a Magic Moments Session in the Spring of 2023 open only to 7th grade families.
---
8th Grade Visiting Days
September - December
One of the best ways to learn about Mercy is to spend a day with us, experiencing the Magic of Mercy for yourself! Your Visiting Day will also allow our Admissions Department to learn all about you during a brief interview.
You'll be paired with a current Mercy freshman or sophomore to observe her classes in action, meet teachers and other students, and get an idea of what life will be like in high school.
Visiting Days are required as part of a complete application.
---
---
7th Grade Visiting Days
Spring
We would like to invite your daughter to our campus for an in-person visiting day!* She'll get to see classes, learn about the admissions process, and meet some of our students, faculty, and staff members. Our visiting days are a great way to check out all there is to love about Mercy!
Registration will open in the spring of 2023.
*Activities are subject to modification/rescheduling due to external circumstances. If circumstances change, we will be in contact with registered families with the options available to them.
---
Individual Tours
Mercy's Admissions Office is always available during the school year to meet with families and give tours by appointment. Email us to schedule a time: admissions@mercyhighschool.com
---
Arts & Athletics Events
Come check out the talent of our performers and athletes and enjoy the spirit and MAGIC of Mercy! We have multiple events throughout the year for middle schoolers and their families to enjoy. Some events may require a ticket. Wear your red, and go Magic!
Arts
Fall Play: November 18-20, 2022
Christmas Dance Concert: December 9, 2022
Christmas Music Concert: December 15, 2022
Spring Musical: March 17-19, 2023
Spring Dance Concert: April 28-29, 2023
Spring Music Concert: May 16, 2023

Athletics
Fall Season: late August - early November
Winter Season: November - February
The Classic: January 27, 2023
Spring Season: March - mid May