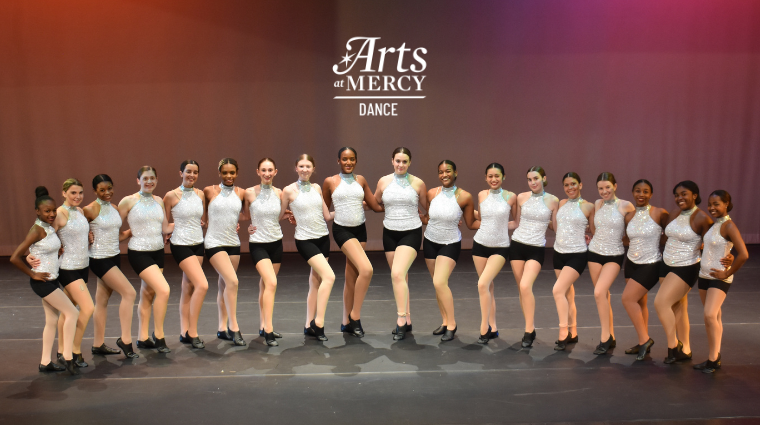 Mercy's Dance Program is a college preparatory, conservatorial program that maintains a dual emphasis on both the technical and artistic training of students, providing them with a solid, comprehensive technical foundation, and a stimulating, enjoyable artistic encounter. Students receive technical instruction in the genres of ballet, modern dance, jazz dance, improvisation, and composition, as well as exposure to various styles of choreography and performance opportunities. The Dance Program at Mercy High School is a well-established program that has successfully graduated dancers who have earned admission to college dance programs and who pursue professional careers in dance.
This two-tiered, co-curricular program includes the Dance Troupe, our pre-professional performance company and the Apprentice Dance Company for students with limited or no formal dance training. Students involved in these full-year courses earn academic credit.
---
Spring Dance Concert
Save the Date!
Friday, April 28 and Saturday, April 29
Mercy's Harry and Jeanette Weinberg Auditorium
---
Christmas Dance Concert 2022
Thank you for joining Mercy's Dance Troupe, Apprentice Dance Company, Dance Exploration class, and Dance Technique Dancers for their Dance Concert!
---
Recent Highlights
Rosanna Rivera, a professional dancer, shared her love of Flamenco dance with the Dance Troupe and the Apprentice Dance Company in two amazing master classes. She also set a beautiful Flamenco piece on Dance Troupe.
---
Danah Bella, Chair of the dance program at Peabody Conservatory, joined the Dance Troupe to give a master class and to discuss the B.F.A. program.

---
Mercy dancers from both Dance Troupe and the Apprentice Dance Company joined dancers from other local independent schools at the annual Independent Dance Network Dance Festival. Our dancers participated in master classes in a variety of genres!
---
National Honor Society for Dance Arts
Mercy High School is excited to have a newly formed Chapter of NHSDA (National Honor Society for Dance Arts). The National Honor Society for Dance Arts™ (NHSDA) is a program of the National Dance Education Organization, created to recognize outstanding artistic merit, leadership, and academic achievement in students studying dance in public and private schools in K-12 education, dance studios, cultural/community centers, performing arts organizations, and post-secondary education. Through the NHSDA, students are provided opportunities for mentoring, networking, and leadership development, as well as national and state-level scholarship and award opportunities.