Dine with Conrad's Seafood
Dine-in or carryout at Conrad's Seafood in Perry Hall and support Mercy's Fathers' Club!
Tuesday, May 31
11:00 a.m. - 10:00 p.m.
15% of sales will be donated back to Mercy. Simply present this ticket digitally.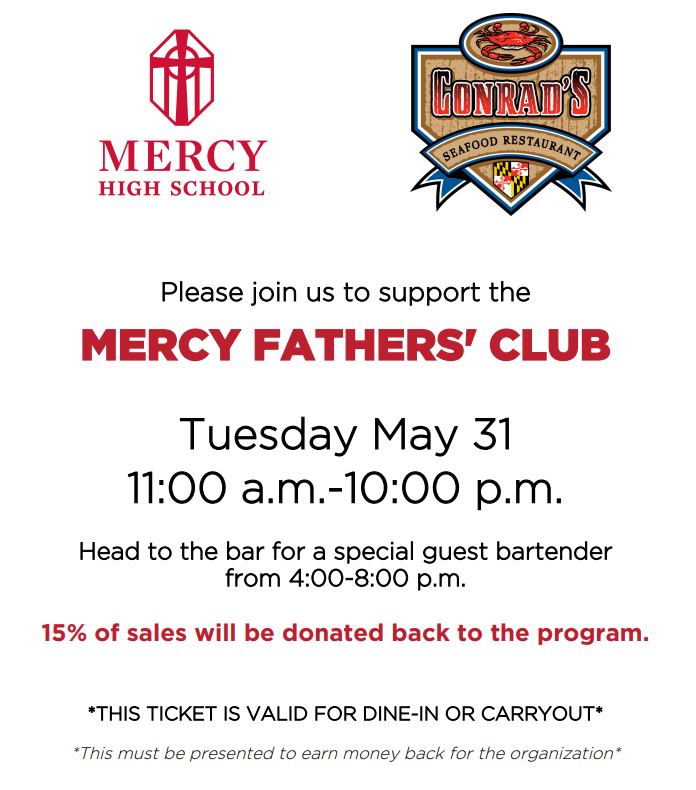 ---
Crab Feast Raffle
Enter the Mercy Fathers' Club 2022 Crab Feast Raffle!
1st Prize
2 bushels of hot steamed crabs, 2 cases of beer, 2 cases of soda & salads, courtesy of Conrad's Crab & Seafood Market & Casa Mia's Restaurant
2nd Prize
1 bushel of crabs, 1 case of beer, soda & salads, courtesy of Mama Lucia
Tickets are $2 each, or 3 for $5 and can be purchased from Bill Garrett at 410-365-4461 or Sherri Garrett in Mercy's Attendance Office at ext. 207.
The drawing will be held at the Mercy Fathers' Club Meeting on June 8. Crabs are available from July 5-October 15, not valid on Labor Day Weekend.
---
Message from the Fathers' Club President
Thank you for visiting the Fathers' Club website at Mercy High School. I would like to extend my personal invitation to come to our monthly meetings. The Fathers' Club is open to any man who has a student in our school. You may begin attending at any point in the year and you will be made welcome.

Our meetings are held on the second Wednesday of each month from September to June. They begin at 7 p.m. in the school dining hall. Fathers' Club business is conducted first, followed by socializing — a buffet dinner and drinks compliments of our club. It is a great way to enhance your daughter's high school experience while also allowing you to interact with other current Mercy fathers and fathers of alumnae.
The Mercy Fathers' Club is involved in many facets of the girls' experiences here at Mercy. One of the most important things we do is give our time for our girls. The Mercy Fathers' Club provides supervision for many of the activities that occur throughout the school year such as dances, plays, and recitals, and provides school support through other special projects or events, such as:
Father/Daughter Dance
Father/Daughter Communion Breakfast
Big Red Spirit Day
Crab Feast Raffle
Guest bartender nights
Supervision at Mercy's Open House
Some of our events are for us fathers and some are in service to our daughters, but all of our events allow us to continue to support Mercy's mission while interacting and connecting with other groups within the Mercy community.
There is no commitment other than to involve yourself at the level that your time and talents allow! The Mercy Fathers' Club currently has over 100 members including alumni dads, yet we need the support of all Mercy fathers. You and your ideas are valued and welcomed.
These experiences will be ones that you enjoy and will carry with you after your daughter graduates. Being a part of the Mercy Fathers' Club is a great way to make new friends and to build lasting memories of your daughter's time here at Mercy. Accept this as my personal invitation to attend a meeting and see how you can become a part of this great group of fathers.
On behalf of all of the members of The Mercy Fathers' Club, welcome!
We look forward to meeting you at our next meeting.
Chad Smith P'20
President