Message from the Mothers' Club President
"Everywhere Catherine and her sisters went, they drew around them a circle of women and some men who participated enthusiastically in the mission."
– Mary Celeste Rouleau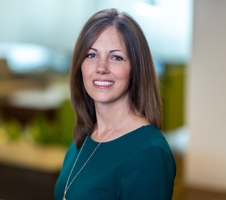 Thank you for taking the time to visit the Mothers' Club website at Mercy High School. My name is Gina Chambers, and I am the new president of the Mercy Mothers' Club. My daughter Avery is a sophomore this year and is looking forward to receiving her sophomore pin and growing as a leader on campus.
Please follow the Mothers' Club Facebook page for more details on meeting times. We normally meet on the 2nd Tuesday of the month from October to May. The meetings are normally held in the dining hall and begin at 7:00 p.m. with food, drinks, and socializing while we discuss upcoming events and club business.
Throughout the year, the Mercy Mothers' Club helps the school with its events and projects. We provide hospitality for Open House, Parent Visiting Nights, and Mercy Day/Ring Day. Our help is also financial, and that money comes from our fundraising efforts. We have several great fundraisers throughout the year that I hope will interest you, including the Mother/Daughter Luncheon.
With past funds we raised, we were able to make donations to the Sisters of Mercy Field, the Fund for Mercy High School, The Garnet Gala, and the 5K. We also used the funds to host the post prom party for the Juniors/Seniors, give a Christmas gift to all the students, faculty and staff, and produce senior DVDs.
If you are already a member, thank you for your continued support! I look forward to showing a big Mercy welcome to our new members. As your daughter makes new friends during her time at Mercy, I hope we can do the same.
Should you have any questions about anything the Mothers' Club does, do not hesitate to contact me.
Gina Chambers P'24
President
---
Become a Member
Download a Mothers' Club Membership Application.
Follow the Mercy Mothers' Club on Facebook!