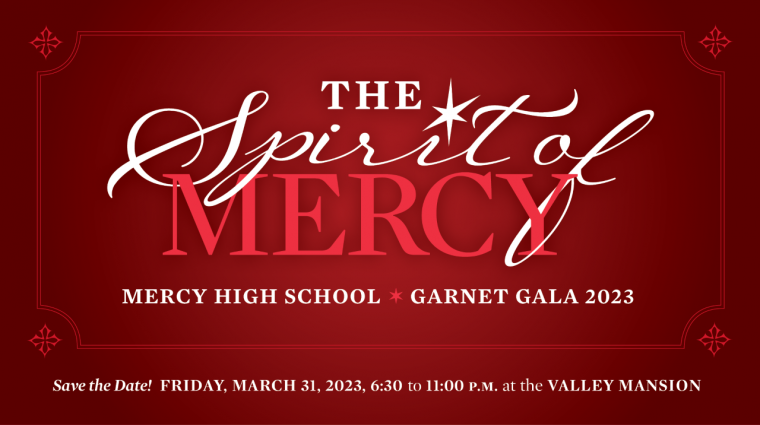 The 2023 Annual Garnet Gala
Friday, March 31, 2023
6:30—11:00 p.m.
594 Cranbrook Road
Cockeysville, MD 21030
Our silent auction is now open and will close on Friday, March 31 at 10:00 p.m. Happy bidding!
The Spirit of Mercy is a precious gift that the Sisters of Mercy have shared with generations of Mercy Girls, families, lay colleagues, and friends. This year's Garnet Gala honors current and former Sisters of Mercy who, as dedicated teachers, administrators, trustees, and supporters of Mercy High School have shared that Spirit. From Baltimore and beyond, our honorees are looking forward to seeing each of you! Stay tuned for more updates as other Sisters RSVP!
The list of Sisters of Mercy joining us for the evening is below! Please check back for regular updates.
Sr. Helen Amos, RSM
Sr. Susanne Ashton, RSM
Sr. Margaret Beatty, RSM (Sr. M. Campion)
Sr. Irene Callahan, RSM (Ms. Irene Meisler)
Ms. Kirsten Cardegna (Sr. M. Vivian)
Sr. Fran DeMarco, RSM
Ms. Catherine Dorsey (Sr. M. Hilda)
Sr. Bernadette Gregorek, RSM
Ms. Terry Kelly (Sr. M. Liam)
Ms. Joanne Manzo (Sr. David Marie)
Sr. M. Karen McNally, RSM
Sr. Anne Marie Miller, RSM
Sr. Doris Jean Miller, RSM
Sr. Agnese Neumann, RSM
Sr. Augusta Reilly, RSM
Ms. Jeri Roemer (Sr. M. Audrey)
Sr. Mary Anne Smith, RSM (Sr. M. Teresita)
Sr. Patricia Smith, RSM (Sr. M. McAuley)
Ms. Mary Catherine Webb (Sr. M. Carmela)
Sr. Sue Weetenkamp, RSM '66, P'93
More to come!
The Garnet Gala is the signature fundraising event for Mercy High School. Proceeds from this event underwrite tuition assistance and academic programming.

Join us for an evening of fun and frivolity! This year's Gala includes Cocktails, Hors d'oeuvres, a Silent and LIVE Auction, Dinner, Dancing, Raffles, and more!
Our menu for the evening is listed below. Should you have any dietary restrictions, please contact Carolyn Panzer, director of advancement, at cpanzer@mercyhighschool.com.
Sunshine Salad with Champagne Vinaigrette
Crab Cake with Red Roasted Potatoes, Asparagus, and Vegetable Medley
Red Velvet Cake
We look forward to seeing you at this year's Garnet Gala!
Thank you to our generous sponsors!